Jewett City Savings Bank is deeply dedicated to serving its community, and our team members are the driving force behind this commitment. Diana Rose, Senior Vice President, Corporate Secretary, and Chief Administrative Officer is a prime example of this dedication and has been an integral part of our team throughout her entire career.
How she started
Diana joined Jewett City Savings Bank in 1984 as a part-time Teller. A year later, she started full-time and was promoted to Head Teller in 1986. In 1988, she moved to the Bank's Brooklyn office, working as Assistant Branch Manager. In the years that followed, Diana quickly moved up the management ladder – Between 1989 and 1997, she served as an Operations Assistant, Assistant Operations Officer, and Assistant Operations and Marketing Officer. In 2000, Diana stepped into the role of Assistant Vice President.
Seven years later, she was promoted to Vice President, Senior Retail Banking & Marketing Officer, joining the Bank's executive management team. Diana took on the role of Vice President & Corporate Secretary, Marketing Officer in 2010, and four years later, was promoted to Chief Operations Officer. In 2018, she stepped into the role of Senior Vice President, Corporate Secretary, Chief Operations Officer.
During this time, Diana graduated from the Connecticut Bankers Association – Connecticut School of Finance & Management and the American Bankers Association – School of Bank Marketing and Management.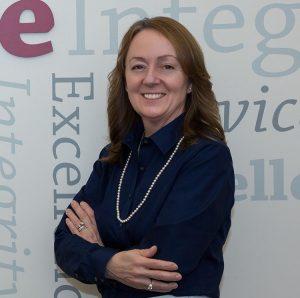 How it's going
This year Diana was promoted to Senior Vice President, Corporate Secretary, Chief Administrative Officer, a role which allows her to share her wealth of knowledge with the Bank's team and customers.
In the community
Throughout her career, many community organizations have benefitted from Diana's time and contributions. She has been a Director of the Quinebaug Valley Community College Foundation since 2016 and currently serves as the Tackle the Trail Volunteer Coordinator. She is also a member of the American Bankers Association Marketing Network, New England Financial Marketing Association, American Bankers Association, Connecticut Bankers Association, and Northeastern Connecticut Chamber of Commerce.
Have a story about Diana or another Jewett City Savings Bank team member?